So one thing I've been wanting to make for awhile is mermaid donuts. Which I find a little funny because I'm not a huge fan of the ocean. or swimming. or the whole "let's be mermaids" fascination…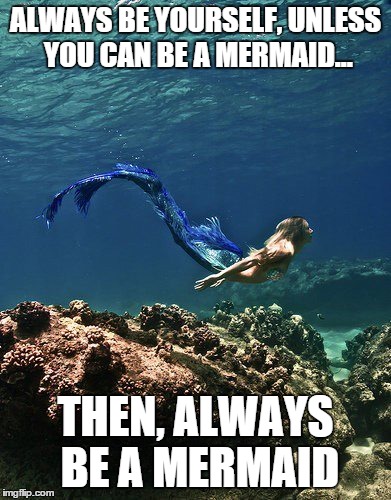 But I love the aesthetic. I love the color combos associated with mermaids. The beautiful purples and greens and blues. So here I am on the mermaid bandwagon. And whether or not the mermaid trend is even a "thing" anymore, I have no idea. I'm always a bit of a late bloomer with everything it seems lol
But back to these donuts…
Aat first I was just going to do mermaid "INSPIRED"donuts with just purple and green "frosting" but then I thought "you can't do a mermaid donut without a mermaid tail". So I crafted mermaid tails by hand using leftover donut dough and a mermaid tail 'stencil":
And, I mean, they're a little rough around the edges but all in all I think they turned out alright in the end…
I also made mini eclair versions just to add a little variety:
Now on a more personal note, for the last 5-6 weeks I've been doing the insanity workout program. If you're not familiar with this program, it's basically designed to kick your ass lol Here is a calendar of the program and what to expect:
For the first 4 weeks, you do the month 1 workouts which are about 40 minutes long and although they are awful, they are do-able…ish. And throughout these 4 weeks you also do 2 fit tests which kind of act as progress markers so you can see what you're improving on, what you need to work on more, etc. Then you get a mini vacation aka recovery week before you jump into the god awful month 2 max workouts which are about an hour long and designed to max you out.
So I just finished my recovery week, completed my fit test, and have started my month 2 workouts. And after looking back at my fit test results from month 1, it's really awesome to see the progress I've made. I may feel exhausted right now but my fit test results have shown monumental progress in my strength and endurance. And the reason I bring this up is because I have done the insanity workout program before. I first did the program about 4-5 years ago when I was going through some hard times in my life and my way of dealing apparently was through excessive exercise as well as controlling what I ate. Ironically becoming a dietitian had me all kinds of stressed out about looking a certain way, eating a certain way, etc. I became obsessed with burning as many calories as possible, obsessing over how much body fat I could lose, watching everything I ate. I remember weighing myself obsessively and the number on the scale would dictate whether it was going to be a "good" day or a "bad" day. I remember feeling like if my workout wasn't at least an hour a long, then I had failed for the day. Often times I would add in ankle weights to my workouts (even insanity workouts) because I felt like I wasn't burning enough calories. I remember telling people I couldn't do things because it would interfere with my workout schedule. My workouts and my obsession with looking and eating a certain way was just taking over my life. And eventually, I got down to such a low weight and low body fat percentage that my body finally told me enough was enough, in more ways than one. I look back at pictures from that time in my life and I can see just how unhealthy I was. My face had become extremely thin and sunken in and I remember a friend mentioning as much. Which I took as a compliment rather than what it was meant as, which was concern. '
Fast forward to now and I am happy to say that I am finally in a healthy state of mind and happy with who I am. Reflecting back on my fit test results from insanity this time around made me realize that I am doing the program for the right reasons this time. I no longer stress over everything i eat. I no longer strive to be a certain number on the scale (in fact, I don't even weight myself at all anymore because I will not let a number dictate my life anymore). I no longer measure my body fat percentage. I have finally learned to accept myself as I am, to eat food that I enjoy, and to live life again. And that is why I post recipes like mermaid donuts. I've learned to love food again and this journey has reminded my why I actually became a dietitian in the first place. Not to look a certain way or to tell other people how to look. It's because I want people to enjoy food as much as I do. And to show them that they can still enjoy the foods they love. I want people to learn to love themselves like I have learned to ❤
Vegan mermaid donuts
Donut base
3/4 cup white whole wheat flour (more as needed)
1 tsp baking powder
1 tbsp olive oil
1 tbsp apple cider vinegar
pinch cinnamon
pinch coconut sugar
1/2 cup butternut squash puree (I used frozen butternut squash, thawed it, then processed it in my food processor. ~1 cup frozen butternut squash chunks = ~1/2 cup butternut squash puree
Filling
vegan cream cheese (my go-to is the tofutti brand)
milk of choice
maqui berry powder for purple
spirulina powder for green
almond extract
sugar, to taste
In a food processor, combine butternut squash puree with olive oil and apple cider vinegar until blended. Add in cinnamon, sugar, baking powder, and flour. Dough will likely be sticky so keep adding flour, a little at a time until dough is manageable. To half of the dough, divide into 4 pieces and form into donuts or eclairs. For the donuts, I rolled chunks of dough into a flat circle then used a straw to punch out the donut hole. For the eclairs, I formed chunks of dough into mini eclair shapes. With the remaining dough, I made a mermaid tail stencil and cut out the dough around the stencil. Once I had all of my tails, I microwaved them and the donuts for about 1-2 minutes and set aside to cool. In a bowl, I combined softened cream cheese with a little milk, sugar, and almond extract until I had a "frosting" like consistency. I then divided the "frosting" into separate bowls and added the maqui berry and spirulina powder and painted my "frostings" onto the mermaid tails and let them chill in the freezer to "set". I then added more milk to the "frosting" until it was a glaze consistency and drizzled on top of the donuts and eclairs. Once everything was "set", I added the mermaid tail decor and voila! Mermaid donuts!